Hager Engineering Structural Engineering Services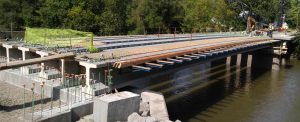 Hager Engineering specializes in Structural Engineering Services for designs & analysis of all types of structures. We specialize in bridges, culverts, salt storage buildings, office buildings, highway shops. We also help our clients with drainage design, bridge inspections and load rating bridges.
Hager has designed concrete foundations for many different types of storage structures, from salt storage to machinery storage for agricultural & commercial uses.
Hager provides architectural and structural designs for new offices, retail showrooms, retail stores and many other small to medium size structures. We work closely with the owner and contractor to ensure the project is functional and cost effective, and meets today's rigorous code requirements.
We pride ourselves in offering a quick and efficient project turnaround on residential house plans and septic system design. Hager has designed over 600 residential and commercial septic systems.
Hager engineering works closely with the clients to save steps later in the design process. Our ability as a small firm allows us to provide our clients with the most cost effective and practical engineering solutions. No job is to small, just give us a call.
Services:
Bridge & Culvert Design
Bridge Inspection & Load Rating
Bridge inspection and load rating
Salt Storage Building Design
Small to Medium Office Building Design
Highway Shop Building Design
Structural House Plans
Building Code Compliance
Site Plans
Structural Inspections
Fire Damage Assessments
Retaining Wall Design
Foundation Design
Historical Preservation & Renovation