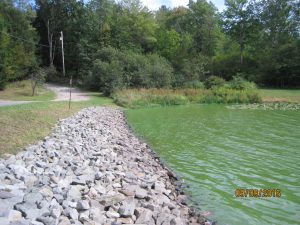 Hager Engineering provides complete pond design services for recreational ponds, farm ponds, detention pond design, retention pond design, landscape pond design, irrigation ponds and even irrigation ponds for snowmaking. We're here to help you plan the size, depth, configuration, spillway capacity and other design considerations. We also design expansions and repairs to existing ponds and man made lakes.
Some of our Pond Design customers:
Holimont Ski Center, Ellicottville, NY
Sugar creek Farms, Dansville, NY
Kingswood Church Camp, Hancock, NY
Lewis Wagner, Hornell, NY
Increase the beauty and value of your property today with new recreational pond.
Hager can help you design & plan a pond that will enhance the natural landscape of your property and give your kids many hours of enjoyment fishing from a pond that produces food that is safe to eat!