Design-Build also known as; design & build, design-construct or single responsibility, Design and Build is a system of contracting under which one entity performs both architectural engineering and construction under one single contract.
The benefits to be gained in establishing a well-designed and managed Design Build process include the following:
Singular Responsibility
Quality
Cost Savings
Time Savings
Potential for Reduced Administrative Burdens
Early Knowledge of Firm Costs
There are several reasons why both owners and the A/E-construction community are considering design and build. Primary among these are:
Owner-driven demands for better quality and continuous improvement in project delivery and in the final product.
Interest in saving time and money
Desire to avoid the legal entanglements of adversarial relationships.
Logan's Inn Motel & Health Spa, Dansville, NY Design & Build Project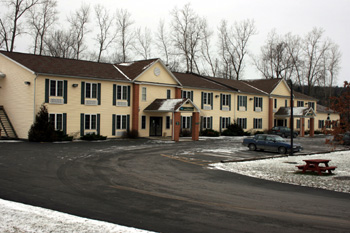 Hager worked closely with the builder on this 30 room motel, complete with health spa and pool.
The Design Build method provided the owner a big time savings, because design and construction were overlapped, and because bidding periods and redesigns were eliminated, total design and construction time was significantly reduced.
Garden Apartments at Houghton College, Houghton, NY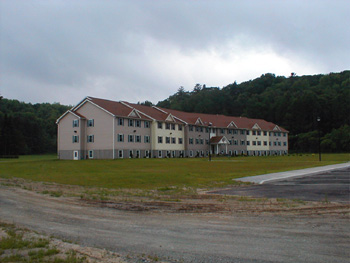 Hager provided the site design, grading and structural engineering for the 36 room Garden Apartment Complex, used for off campus student housing.
The Design-Build method provided the owner with "Fast Track" construction. With Design-Build, materials/equipment procurement and construction work began before the construction documents were fully completed. The resulting time savings translates into lower costs and earlier utilization of the completed facility.